Hello everyone!
After some confusion in guild chat regarding Mumble, I decided to create an easy-to-follow guide by uninstalling my own client and re-installing it step-by-step. And so I present to you PsychoPop's
25 Steps to Showing Off Your Sexy Voice
, a Mumble installation and setup guide.
Enjoy!
How to Install/Setup Mumble
25 Steps to Showing Off Your Sexy Voice!
by PsychoPop
1. In your browser, head to
http://www.mumble.com
. Click the
Download Mumble
link at the top of the page.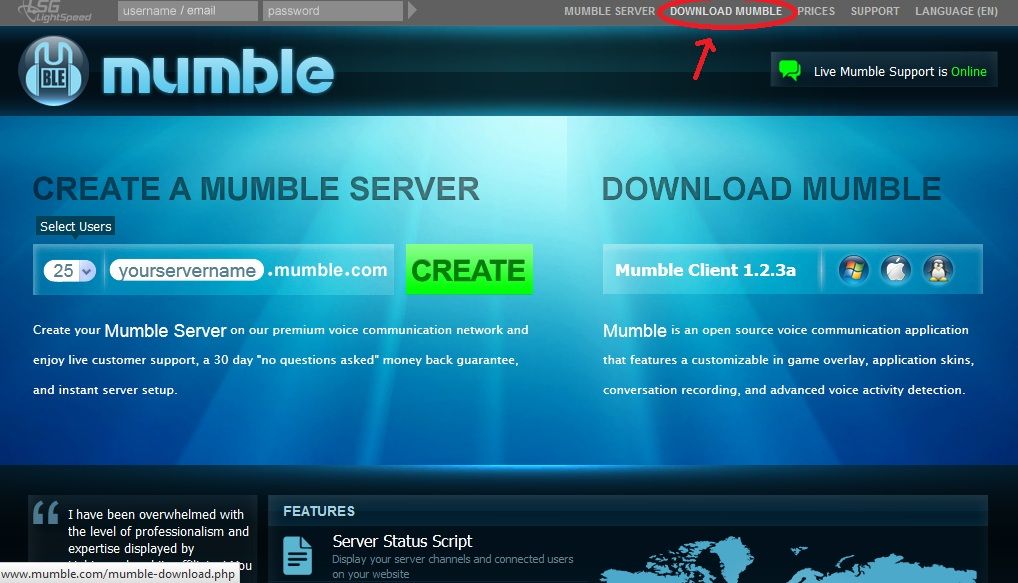 2. Select the client that corresponds to the operating system your computer is running.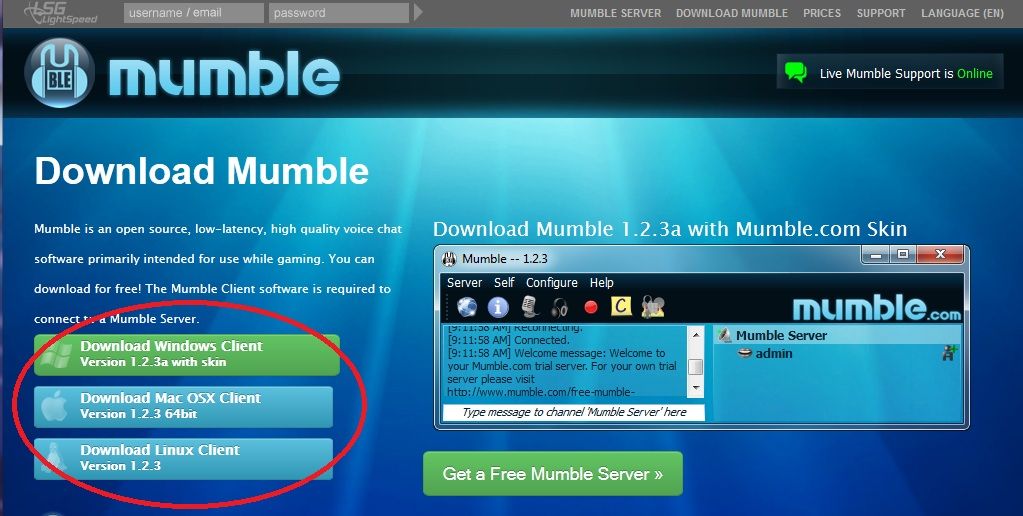 3. After clicking the button for your operating system, a dialogue box appears. Select Save File, to save the Mumble installation file to your computer.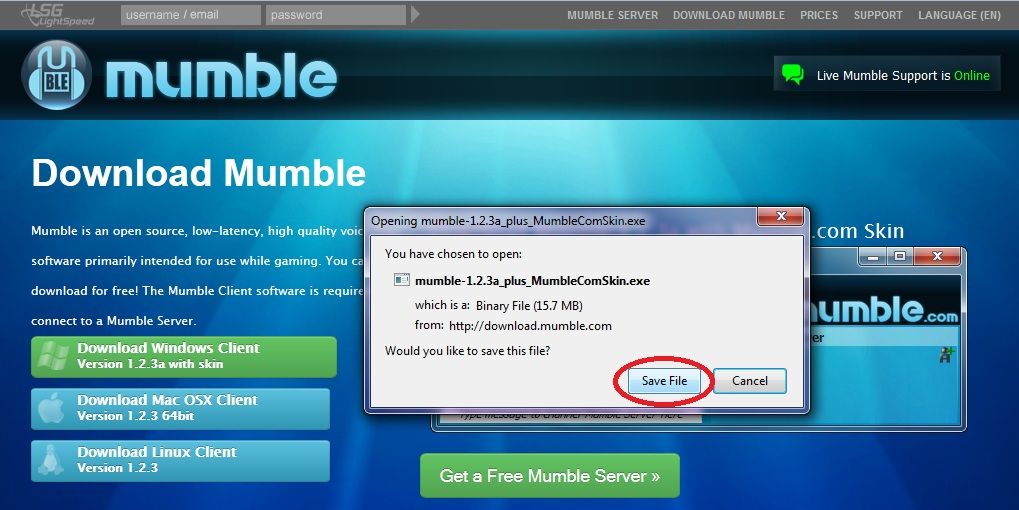 4. Once the file is finished, navigate to where it saved on your computer and open the file. If you receive a popup that asks for permission to run the program, allow it to do so. In the next window that opens, all three of the boxes in the image below should be checked by default. This is fine, click
Install
and allow the program to run.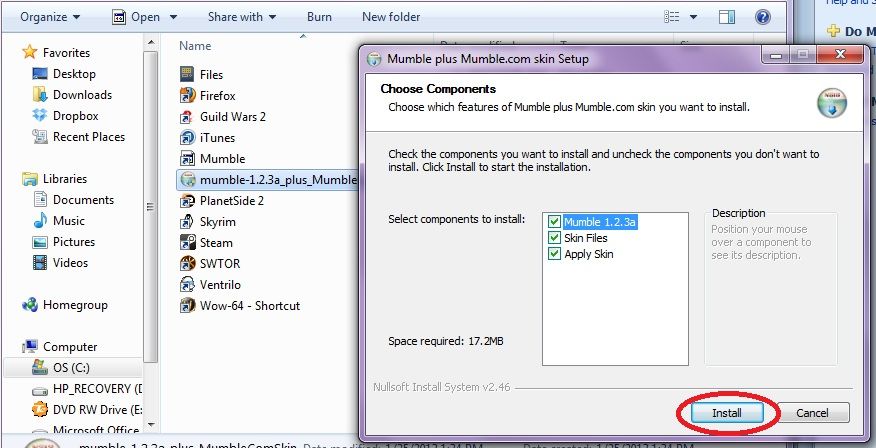 5. The installer will begin and another window will open to guide you through the installation. Click
Next
.

6. The next window will display the Mumble licensing agreement. Read through it if you're a masochist, then check the box and click
Next
.

7. The next window simply informs you about what is being installed. No changes are necessary, just click
Next
.

8. In the following prompt, click
Install
.

9. The installer will continue on until it presents you with an installation confirmation screen. When you see this screen, check the box labeled
Start Mumble
, and then click
Finish
.


10. The installer will close, and the Mumble window will open up, with the server selection window also opened by default. At the bottom of this smaller window, click
Add New…
.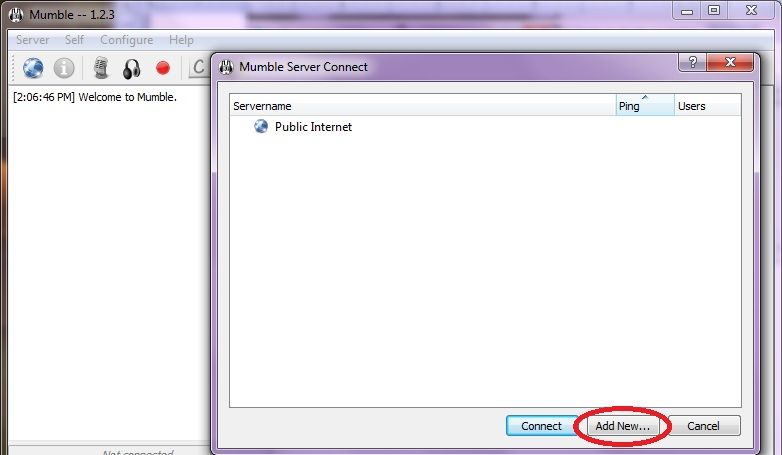 11. Fill out the Add Server dialogue box with the information in the picture below, then click
OK
. If this information changes, you'll find it in-game under the Info tab of your guild window.
Label
: The name you want the server to appear as in your list of servers. (Whatever you like)
Address
: The server's information. (mumble.signalsmedia.com)
Port
: The access port to use the Mumble server. (36132)
Username
: The name you want
others to see you as in their clients
. (Whatever you like)
12. The Server list should now update to show the CtR server you just created a connection to. If the information was entered correctly, it should passively show you your ping to the server and the number of users currently online. For now, Click the
X
in the top right corner of the server list, then click
Configure
at the top of the main window.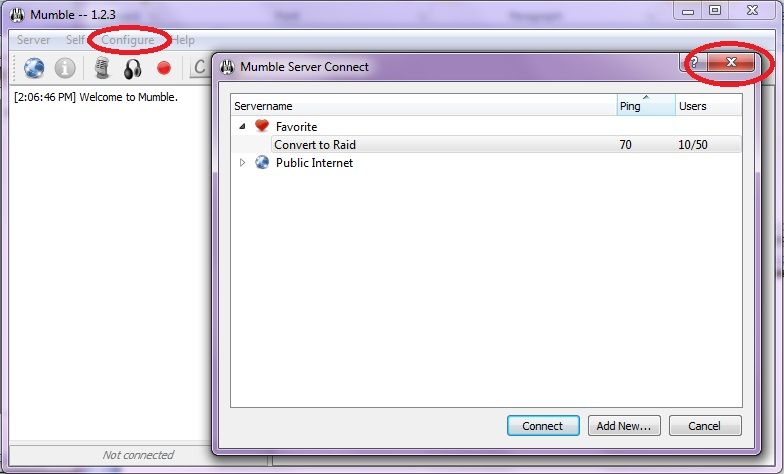 13. Click
Audio Wizard
.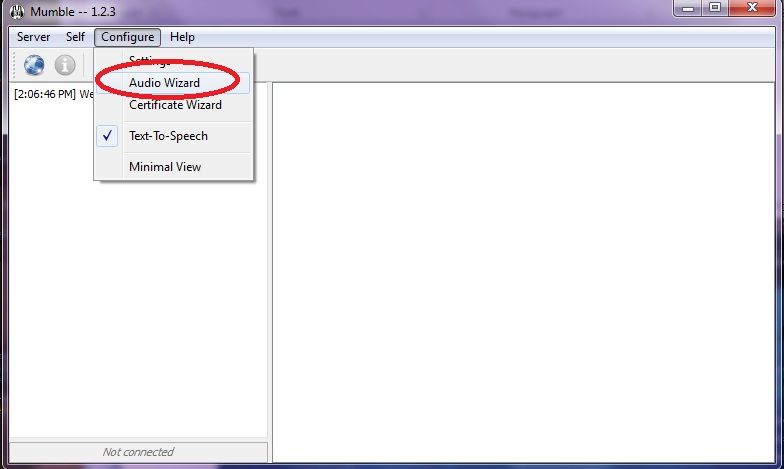 14. Click
Next
.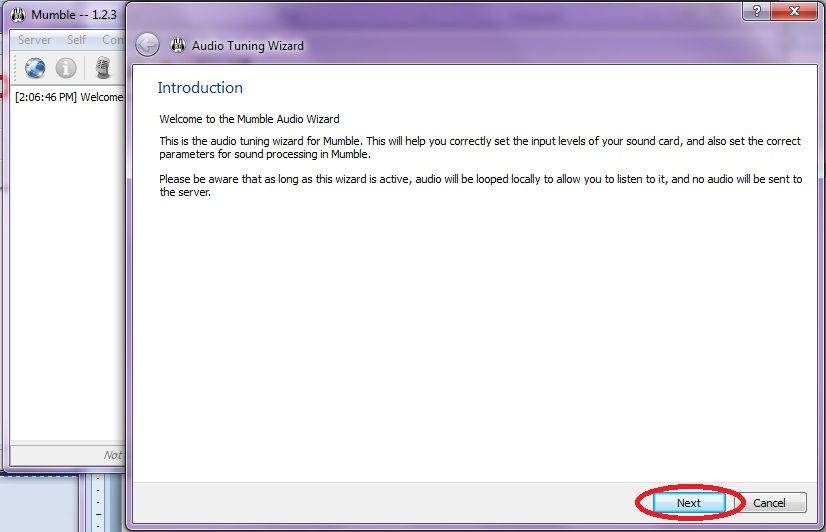 15. The important thing to check in this window is that, of the two circled drop-down boxes, the top one displays the device you're going to use to be speaking, and the bottom one displays the device you're going to use to listen to others. Usually, the wizard will be fairly accurate at detecting your default devices, but if you've just installed a new microphone or speaker system/headset, you may need to alter these.
Note: If the setup is correct at this point, you should be able to hear yourself speak into your microphone via your speakers/headset while you remain on this window. When you're finished, click Next.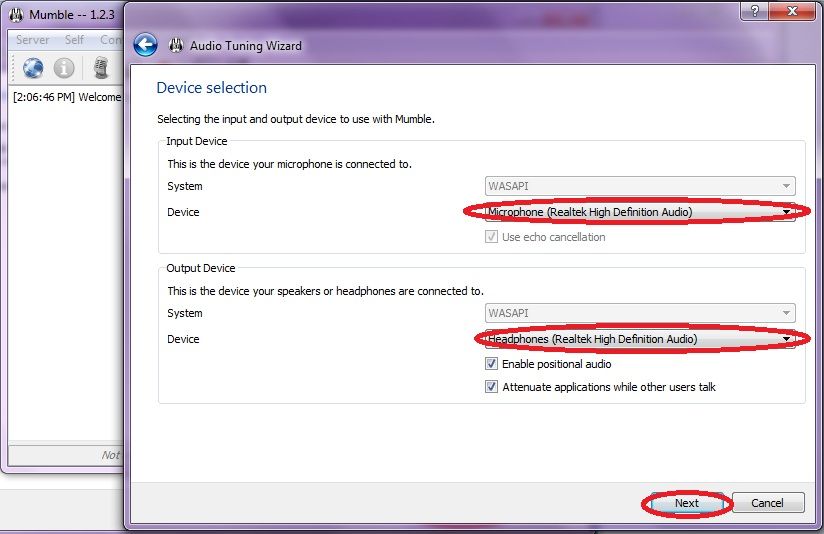 16. This screen tunes your codec to make sure you get as little latency as possible. The goal is to reduce the slide bar as far as possible without getting any interruptions in the looping voiceover. Slide the bar down one notch at a time, until you're as far to the left as possible while still hearing a crisp, clean voiceover about Speex. Try not to go mad from the repetition; it'll be tricky.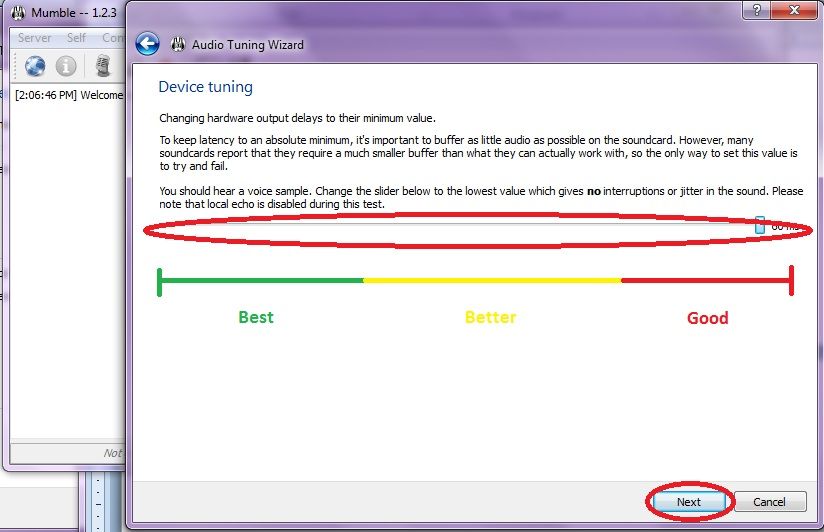 17. The name of the game on this screen is microphone volume control. What you want to do is adjust the slider button so that when you're not speaking, your normal everyday noises (breathing, swallowing, etc, don't make the volume detector leave the blue space, but your speaking voice moves into the green space. Try a couple practice sentences, just making sure that when you speak, the volume bar goes into the green, and when you're done speaking, it dips back into the blue.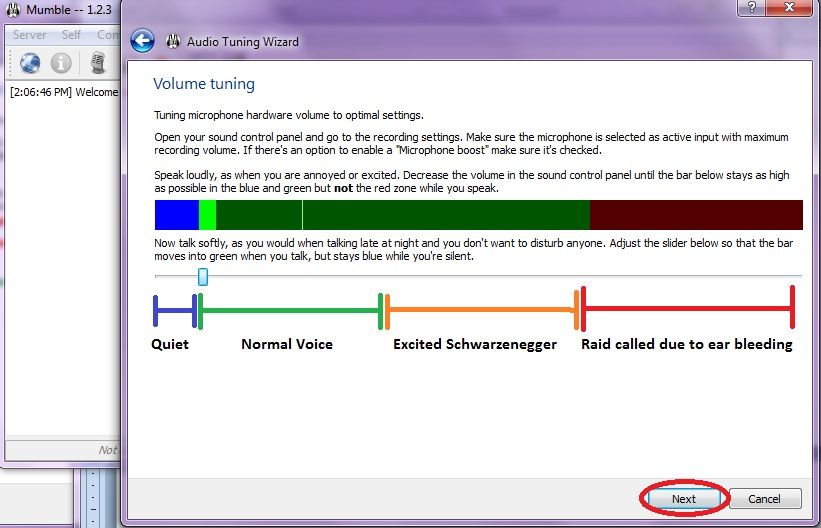 18. This screen either sets up a Push-To-Talk (PTT) key, or sets the threshold for ambient pickup. PTT binds a key on your keyboard or mouse to Mumble, so that unless you hold down that key, no one hears you speak. I personally use PTT and recommend it for those of us with dogs/kids, so your raid doesn't get startled when a 50lb. German Shepard with the bark of a 90lb. German Shepard sees a cat outside. Ambient pickup works kind of like the last screen we were on, you set the threshold here via the slider button at the bottom, then Mumble will detect when you're talking as opposed to being at your normal resting volume and activate, allowing others to hear you. It then deactivates when it senses you've stopped speaking. Ambient pickup is best used when you'd rather not reach for a key to speak, and when you're not sick. Sniffles, coughs, and tissue moving will all be picked up, guaranteed. =P
Select which mode you'd like. For PTT, click in the text box to the right of
Push To Talk
, and then hit any button on your keyboard/mouse. The text inside the box should update to be that of the key you just pressed.
For ambient pickup, select
Raw amplitude from input
, then adjust the slider in the same way we adjusted the last one; you want your spoken words to make the bar jump to the yellow, and your resting volume to be in the red.
When you're all finished, click
Next
.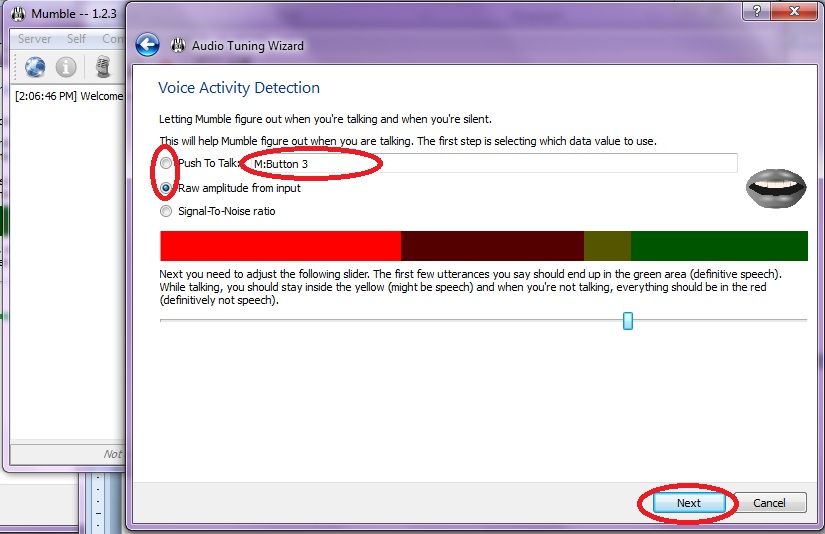 19. This window is a preferences pane. The
Quality Settings
section asks how much bandwidth you want to allow Mumble to use to provide an increasingly higher quality of audio. Set this as high as possible without damaging your in-game latency. If you're on DSL-speed internet or higher, you should easily be able to get away with putting this on
High
.
Notification Settings
determines whether or not system messages are read to you. Mumble has a built in text chat client that you will see to the left side of the main window. While logged into Mumble, members may type into that text area to communicate non-verbally. If you have the top radio button here selected, any typed message in that box will be read out via a computerized voice to you, so that you don't miss what was typed while in-game. When the bottom radio button is selected, you will simply hear an audio sound alerting you that a message has been typed into the chat, and you'll need to navigate to the Mumble window manually to read it. It's up to you!
When you're finished here, click
Next
.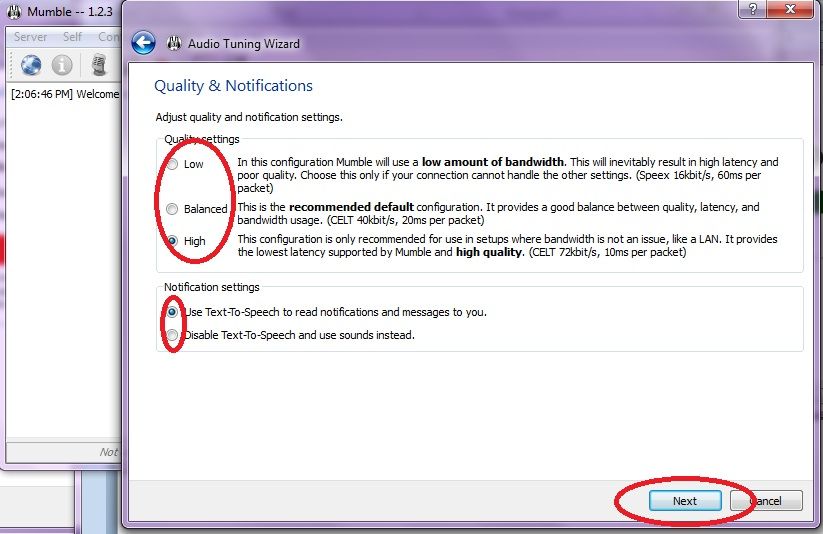 20. This screen allows you to determine which positional audio setup you prefer. Listen to the voice both with and without the
Use headphones
box checked, and decide which you like better. Then click
Next
.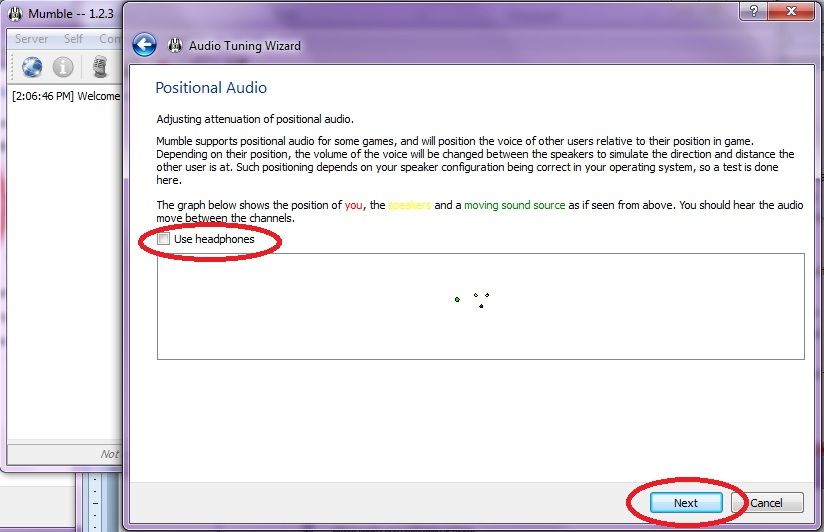 21. The Audio Wizard is complete. Check the box if you'd like to submit anonymous data to Mumble for their continued diagnostics and improvements, then click
Finish
.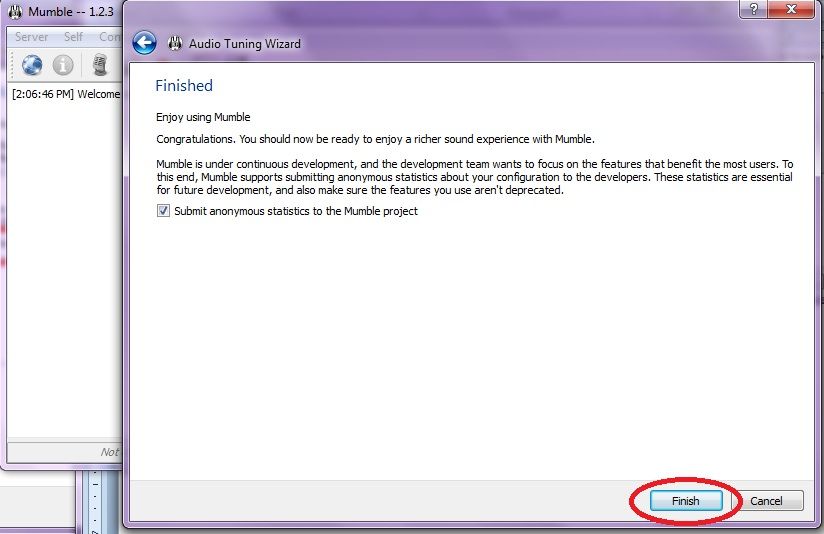 22. Click
Server
, then
Connect
.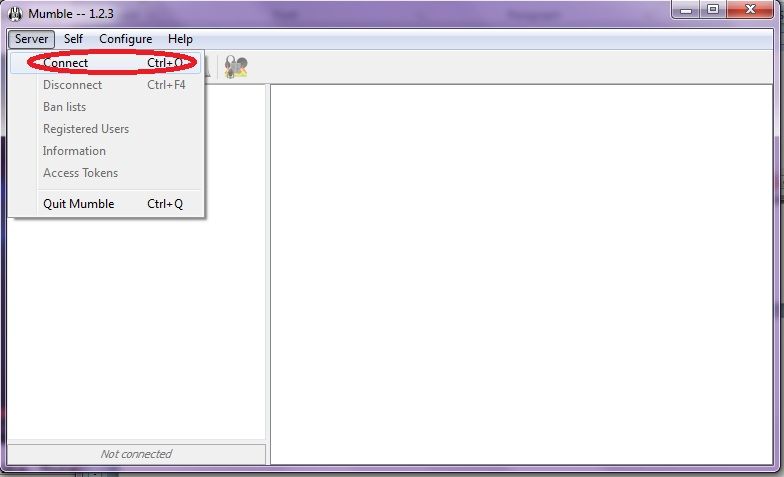 23. Select the Convert to Raid Mumble server, then click
Connect
.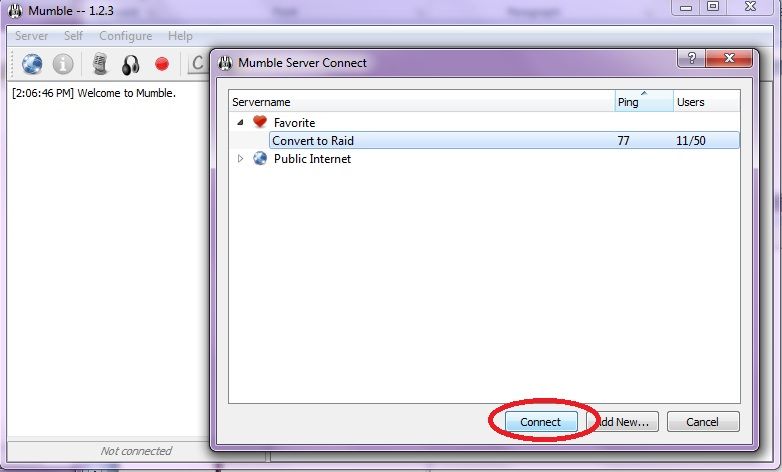 24. When prompted for a password, enter the one found in-game in the Info tab of your guild pane, then click
OK
.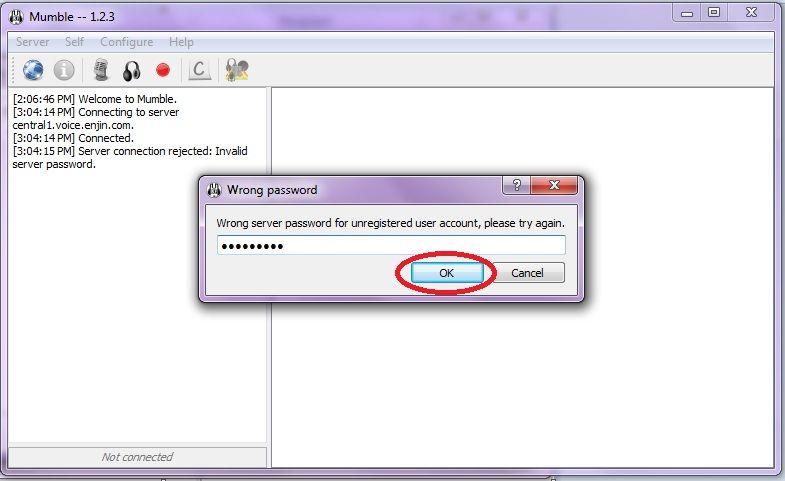 25. You're connected! You'll now see a list of available channels and the people in them. Simply double-click a channel name to enter that channel, and get talking!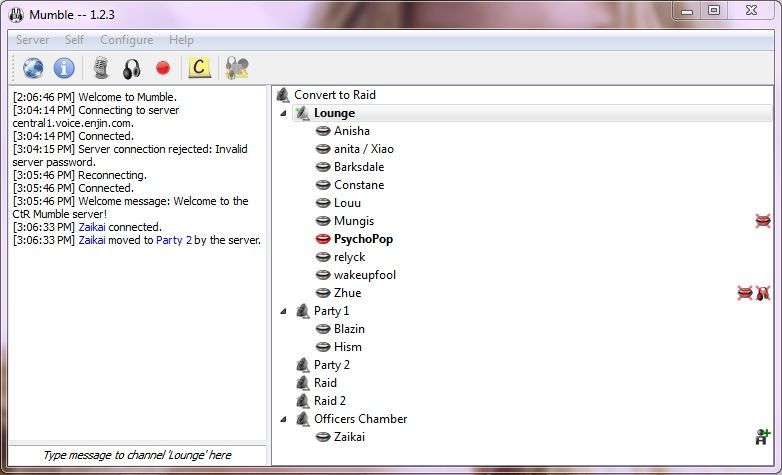 Congratulations and enjoy!!!