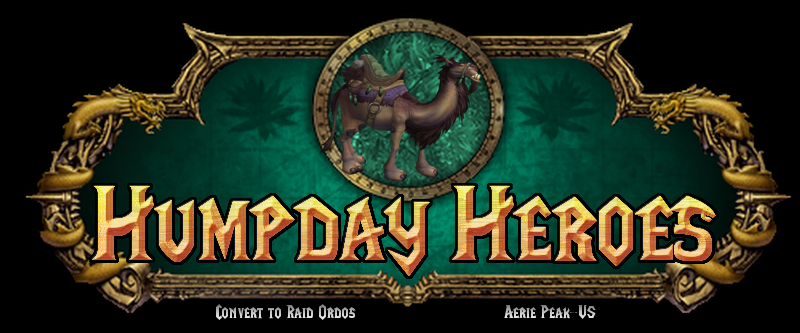 WE'RE RECRUITING!!!! SEE DETAILS HERE!!!
NOTE:
The following description, roster, and information are being currently revised due to the release of the Warlords of Draenor expansion. Our team is expanding, and the details of our rules and roster will change.
What We Are:
A mid-casual progression raid team on Aerie Peak-US composed of CTR Ordos toons.
We formed in January of 2014 and started raiding older content together before we started slamming down new content. In Warlords of Draenor, we've combined with Unit 91, another raid team in the Convert to Raid guild.
What Our Name Means:
Humpday is a slang term for Wednesday because it is the middle (and thus the hump, like on a camel's back) of the week. We are aptly named because our original standard raiding day was Wednesday evening. And, of course, we're heroes because we will be trouncing the raid bosses of Azeroth.
We've since added Monday evening to our schedule, so we run both Wednesday and Monday from 6-9PM PST (server time).
What We Plan To Do:
Progression.
Our long term goal in the Mists of Pandaria expansion was to defeat Garrosh Hellscream on normal mode difficulty. We succeeded and even put him on farm.
In Warlords of Draenor, our
long-term goals
will be to conquer Heroic mode raiding content and enter the Mythic difficulty. We look forward to challenging ourselves by completing the hardest content that Blizzard provides in a raiding environment.
This means that our
short term goals
are to complete Highmaul on normal & heroic modes and to recruit 20 members to enter Mythic raiding. So, you're interested, let me know either in-game, by private message, or as a reply to this post.
Who Gets the Loot:
We are currently running Perosnal Loot until we are geared up a bit more. Then, we will mostl likely switch to our Loot Council system and funnel pieces of gear to people who need them.
How Can I See What You Are Doing:
You can visit our raiding logs by visiting the link posted
HERE
.
Are you on the team and would like to leave feedback to the raid leader? Use our
DROPBOX
.
What Are Our Requirements of Team Members:
Punctuality - As we only raid 3-6 hours every week, we need our members to be ready so that we can get through content. This means being at the raid instance at or before the time we begin. We will start promptly at 8pm central time zone (6pm server time). We will have a small break in the middle of the raid and other shorter breaks as needed, but these are for you and not for your character's lack of readiness.
WoD Raid Knowledge - Please be aware of your role in the raid encounters. We will discuss strategies before we pull the boss, but you won't understand what we're saying unless you understand the very basic mechanics. Basically, this amounts to reading strategies online or watching a video of the encounter.
Professions at WoD level - As we will be a long-term mid-casual raiding team, professions will be important. Not only do they give each individual an easy access to gear optimization, but we will be sharing crafted items between each other. Please have two primary professions at WoD level. You should be able to assist the raid team in some form with your professions. These are easier to accomplish in WoD due to Garrisons.
Full Preparation - Please have everything ready for your character before raid night begins This means that you should have your potions, flasks, gems, and enchants. As we acquire new loot as a team, we will do our best to get new items to you. That's why we max our professions.
Mumble Access - All raid team members will be required to use the CTR Mumble server during raid times. Not only will this help with out current raid, but it will promote the community feeling we are shooting for. Note that you do not have to speak if you choose not to. But you must be able to hear us.
Community/Teamwork/Respect - The CTR motto is so important to our raid team's survival that it needs mentioning. We are to be a mid-casual progression raid team. This means we don't need to be disrespectful to one another in any way. It also means that we need to be mature and ready to listen to one another. WoW is meant to be fun, and we want to make sure that we have that fun (but not at the expense of others).
Team Roster:
<Humpday Heroes>
CTR - Ordos
Alternates:
RDPS:
Saretha
- Mage (Scarlet Crusade server)(CTR toon is Lilbigdeeps in CTR Omen)
Temporarily Benched:
RDPS:
Simbas
- Druid (CTR Kazzak)
Heals:
Súndara
- Monk
MDPS:
Kobaiyashi
- Monk (CTR Sha)
Roster last updated: 9 July 2015